While all fans may think their favourite football club is of top interest to search for news and updates on, this may not be the most popular within their own country of origin. JD Sports has collated search data to look at which football clubs in the world are most popular based on Google data, with some insightful results showing the top picks may not necessarily be the expected.
Our research collated the average monthly search volume for the club names, filtered by countries, which was then drafted into a list from highest to lowest for each area.
Most Searched Clubs in the World
(where grey there was inconclusive search data for the country)
Without even digging into the numbers specifically, the map clearly demonstrates an overwhelming interest in Real Madrid across the globe. The Spanish La Liga club came top of the list for a total of 97 countries of all, by far outdoing the second place runner-up Arsenal who won in 17 countries on search. Coming a close third, Manchester United gained just 1 less than Arsenal, at 16, bringing strong presence in territories including Asia and Africa.
Most Searched Clubs in Europe
When delved into, Europe shows a different agenda to some other continents, demonstrating a greater sense of national loyalty to home teams. Most countries within Europe tended to stick to their own teams in the top club of interest, with examples from Germany, France, the Netherlands, Spain and Portugal amongst those opting for local interest.
UK neighbour Ireland opted for a British team as top of it's list, choosing North West club Liverpool as number one. Similarly Norway and Iceland also rated Liverpool worthy of interest compared to other top league teams.
Sweden Swayed
Players can certainly make a difference to the results in some European countries, look at Sweden as a prime example. Manchester United was the top team based on average monthly searches, which, when looking at interest on trends showed massive spike in 2016, coinciding with the transfer of Swedish national Zlatan Ibrahimovic. Man Utd may not stay top for long though, as interest has begun to drop since his departure from the club earlier this year.
Most Searched International Football Clubs in Malaysia
As for Malaysia, football is undoubtedly one of the most famous sports here with one of the biggest international football fan-base in all of Asia. Based on the average of 8000 searches over the past year, Manchester United tops the list as the most searched international football club followed by Liverpool and Arsenal in the top 3. Other than the British Premier League, there's also an interest towards other clubs in Spanish and European leagues with Barcelona, Real Madrid, Juventus and Paris Saint-Germain seen present in the top 10.
RELATED ARTICLE: RED ALERT: THE MANCHESTER UNITED 18/19 KIT ARE HERE!
League Success Influence
Success may play a part in the increase in interest in other clubs however, looking at Leicester specifically shows an enormous surge in interest since early 2016,which saw the midlands based club defy odds to win the Premier league. Since then search has stayed above previous levels, although not quite hitting the peaks reached during that winning season. 
Most Searched Football Clubs in Africa
African countries showed a clear split by region in club of interest. The southern countries swayed more toward Manchester United, whilst the north was dominated by queries for Real Madrid. Arsenal additionally did will, in the East particularly, but local clubs showed little to no interest as a whole, proving the success of top worldwide clubs was too much to compete with even on a local level.
Salah Surge
Egypt was the only country not to favour one of the aforementioned three clubs, opting instead to search for Liverpool, which comes as no surprise considering the clubs Egyptian forward Mohamed Salah.
Interest in the Merseyside club has risen in line with that of Mohamed Salah's transfer to the club in 2017, clearly being the biggest contributing factor in the rise in interest for Liverpool.
Most Searched Clubs in Asia
Asian countries follow a resemblance to African ones, choosing Arsenal, Man Utd and Real Madrid for most places, with a few searching for Liverpool. Man Utd showed a specifically strong interest in South East Asia, coming first in countries including Singapore, Malaysia and Myanmar.
Next Article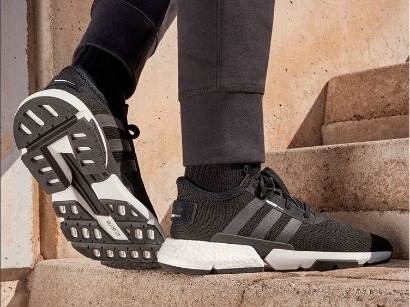 SNEAKERS | June 22, 2018
COP OR DROP: adidas Originals POD 3.1